A Life-Saving
Solution for All
Avive Flexible AED Wall Sign
Item#: ACC04
Regular price
Price:
$14.99 USD
Regular price
Price:
Sale price
$14.99 USD
Unit price
per
Sale
Sold out
This large wall sign will help draw attention to your AED so that it's easy to find during a rescue, potentially saving valuable time during a stressful emergency.

Measuring 14.75" x 9".
One (1) vinyl, multi-configurable wall sign measuring 14.75" x 9" with pre-drilled holes to help drive awareness to your AED's location.
Screws not included.
Avive's flexible AED wall sign features a bold design with large block lettering and a recognizable AED symbol.
The vinyl design allows the sign to be configured in several useful configurations without requiring different signs to meet your preferences. It can be set up in the standard "V" shape, flat mount, or attached to a corner so it's visible in multiple directions.
Shipping Info:
This item will ship to you via UPS from California. If you'd like to make any changes to your order prior to shipping, please call us at 1 (800) 489-4428 or email us at support@avive.life immediately.
Shipping Rates & Speeds:
At check out, you will typically see multiple shipping options with estimated delivery dates, so you may choose the option that works best for you. Please note that some items may be ineligible for expedited shipping. Currently, we only ship to customers located in the United States.
Check out our full Shipping Terms here.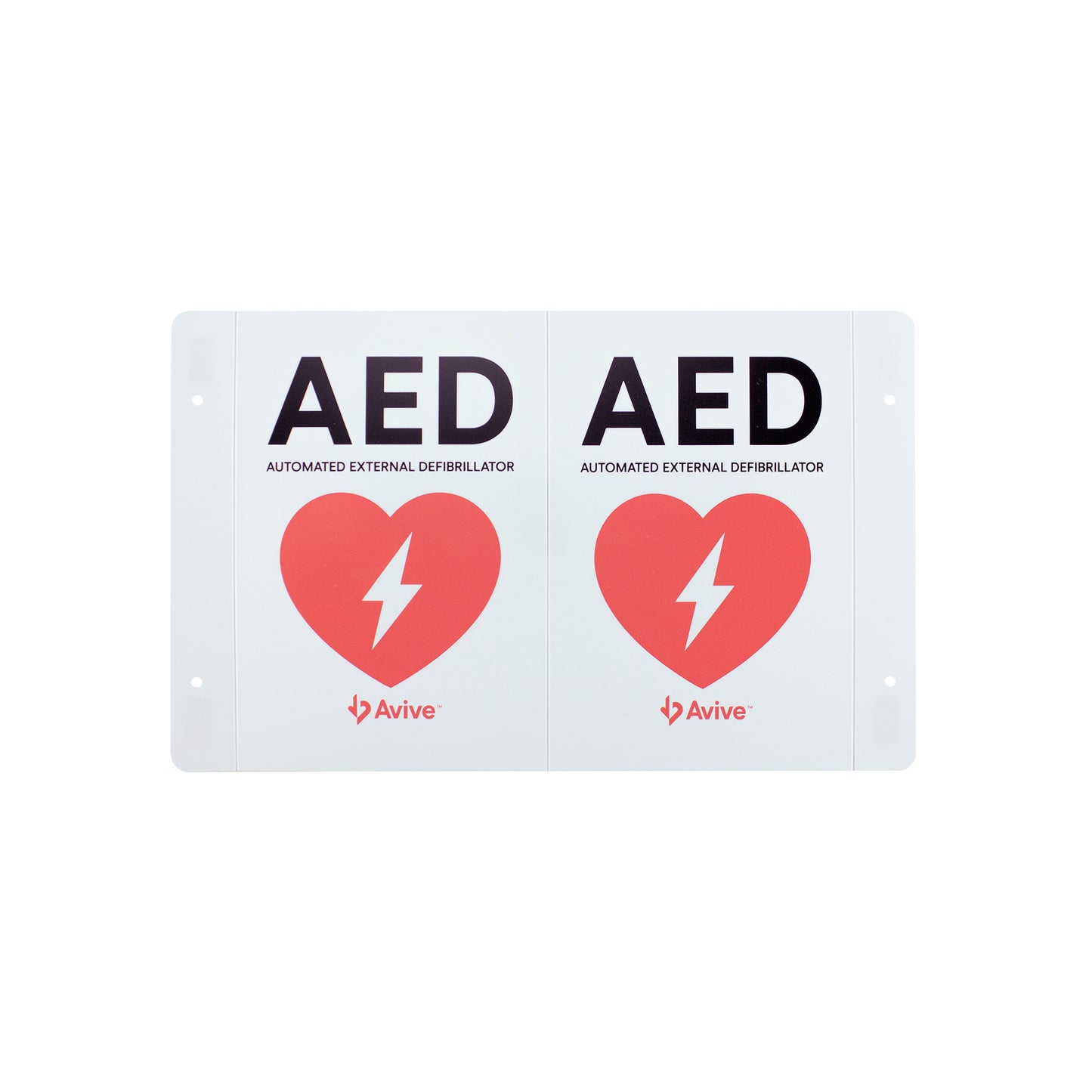 Additional Information
Our Warranty:
We provide a limited warranty to the original end user for our AED units and associated accessories. Our AED's are warranted for five (5) years from the date of shipment. If the AED is registered with the REALConnect™ maintenance services, the warranty is extended to eight (8) years. Disposable Avive Pad Cartridges are warranted until the expiration dates listed on the package. All other approved accessories are warranted for 90 days, or the expiration date, whichever is later. Find our full Limited Warranty Policy here for more details and conditions.
Return Policy:
Avive Solutions is committed to your satisfaction. If we make an error with your order, or you receive defective or damaged merchandise, please give us a call at 800-489-4428 us at support@avive.life immediately.
If you ordered the incorrect item or need to return an item for other reasons, we offer FREE returns within 30-days of delivery, so long as a few simple conditions are met. Check out our full Return Policy here.