A Life-Saving
Solution for All
Avive Connect AED™
Item#: AED01
Regular price
Price:
$1,395.00 USD
Regular price
Price:
$1,395.00 USD
Sale price
$1,395.00 USD
Unit price
per
Sale
Sold out
Did you know you can get the Avive Connect AED and all of its features for just $349 a year? Check out our LIFESaver™ Plan to learn more!
The Avive Connect AED contains an Avive AED™ defibrillator with an Avive Connect factory installed to provide a powerhouse of connectivity. It is the lightest and smallest FDA-approved AED available — weighing just 2.1 lbs with the Avive Connect installed, and built for accessibility, portability, and durability.

One (1) fully-automated, FDA-approved Avive AED™ with Avive Connect factory installed
One (1) Avive AED Pad Cartridge, containing one set of two (2) adhesive electrode pads and can be used on either adults or children for analysis and defibrillation
One (1) medical-grade Avive USB Power Adaptor
One (1) one-meter (3.3 foot) Avive USB Charging Cable
8-year warranty after quick, easy online registration
One year of FREE access to Avive's REALConnect™ Services
Designed to offer more features for less cost, every Avive Connect AED includes:
GPS, Cellular, Bluetooth, and WiFi wireless communication for daily AED monitoring and notifications, bi-directional communication with 911, and rapid transfer of valuable incident data from the AED
Avive's EverCharge™ Battery, to help keep your costs down with the industry's only embedded rechargeable battery that never needs to be replaced throughout the life of the device
AllRescue™ Technology that allows every AED to be used on either children or adults with the same set of electrode pads, and bilingual language selection between Spanish or English
The ability to easily convert your device into Training Mode by simply inserting the Avive Training Cartridge - empowering you to be ready to step up when it counts the most
One year of FREE access to Avive's REALConnect™ Services, which includes a web and mobile platform to simplify AED maintenance and fleet management, novel integrations into 911 to streamline response, a replacement Avive AED Pad Cartridge included upon expiration and use, Medical Direction & Program Management, and more!
Shipping Info:
This item will ship to you via UPS from California. If you'd like to make any changes to your order prior to shipping, please call us at 1 (800) 489-4428 or email us at support@avive.life immediately.
Shipping Rates & Speeds:
At check out, you will typically see multiple shipping options with estimated delivery dates, so you may choose the option that works best for you. Please note that some items may be ineligible for expedited shipping. Currently, we only ship to customers located in the United States.
Check out our full Shipping Terms here.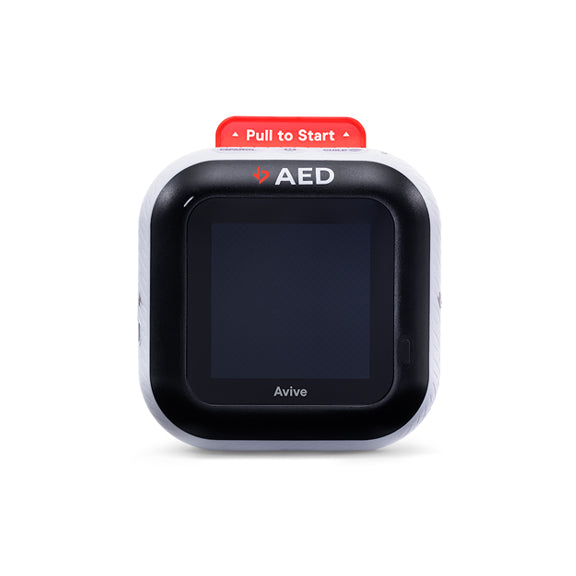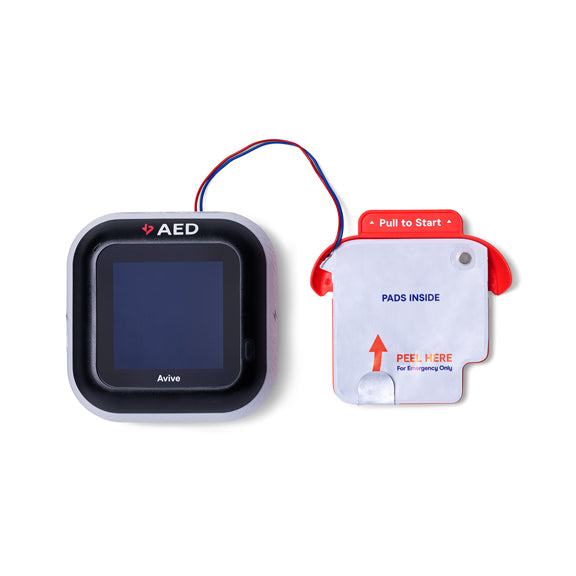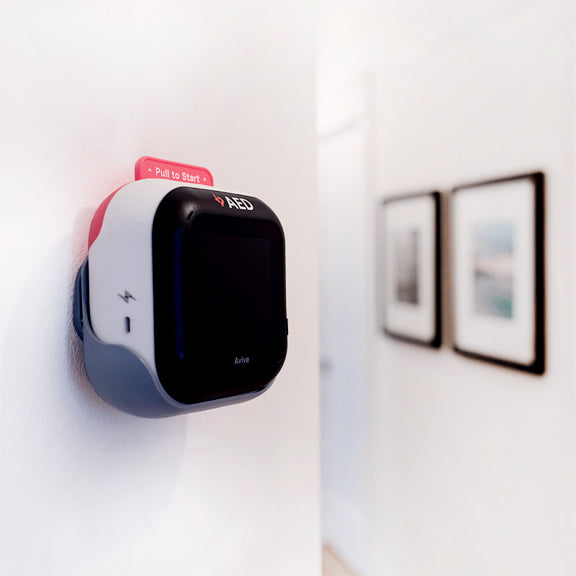 ULTRA PORTABLE

FULLY CONNECTED

EASY TO USE
Designed for portability.
We've packed first-of-its-kind capabilities and the most advanced features in the industry into a compact, light-weight, connected, and affordable device with a long battery life - setting a new standard for AEDs.
70% of Sudden Cardiac Arrest Occur in the Home
Sudden Cardiac Arrest (SCA) can happen to anyone, anywhere, anytime – your family member at home, your friend at the park, your colleague at work. Avive has developed lifesaving solutions designed to empower you and your community to step in and respond to SCA emergencies. Together, we will save lives!
"The Avive AED is a smart device, and we now trust smartphones, we trust smart TVs, we trust cars to drive us without our hands on the wheel because they're "smart" cars. Why wouldn't the device being used to save somebody's life be smart?" thhhhh
LYNDSEY SELLERS, DIR OF EMPLOYEE TRAINING & DEVELOPMENT,
NATIONAL FITNESS PARTNERS
Additional Information
As you've likely gathered, the Avive Connect AED is a lot more than just another AED. Below are some of the most commonly used technical specifications for comparing one AED unit to the next.
Need more detail? Find our full Avive Connect AED specifications by clicking
here
.
Defibrillator Type: Fully Automatic
Selected Energy: Adult 150 Joules; Pediatric 50 Joules
Physical Specifications (with Avive Pad Cartridge™ Installed)
Dimensions: 5.63in x 6.30in x 2.60in (143mm x 160mm x 66mm)
Weight: 2.1lbs (953 grams)
Environmental
Dust/ Water Resistance: IP 54 (with Avive Pad Cartridge installed) - dust protected, splash and spray proof
Pad Cartridge Specifications
Shelf life: 2 years (see use-by-date on the pad cartridge)
Connectivity
Wireless Communication Methods: Bluetooth connection to the Avive App™, and cellular and WiFi connection to the cloud-based REALConnect Platform
Location: GPS based device tracking
Our Warranty:
We provide a limited warranty to the original end user for our AED units and associated accessories. Our AED's are warranted for five (5) years from the date of shipment. If the AED is registered with the REALConnect™ maintenance services, the warranty is extended to eight (8) years. Disposable Avive Pad Cartridges are warranted until the expiration dates listed on the package. All other approved accessories are warranted for 90 days, or the expiration date, whichever is later. Find our full Limited Warranty Policy here for more details and conditions.
Return Policy:
Avive Solutions is committed to your satisfaction. If we make an error with your order, or you receive defective or damaged merchandise, please call us at 800-489-4428 or email us at support@avive.life immediately. If you ordered the incorrect item or need to return an item for other reasons, we offer FREE returns within 30-days of delivery, so long as a few simple conditions are met. Check out our full Return Policy here.
Avive Connect
The Avive Connect really is small and light - surprising even folks like TSA when I brought it through the airport security as a carry on (the device has an airplane mode to make it flight compliant). It sets a new standard for cost, weight, size, ease-of-use and connectiveness. The touch screen design makes its use very familiar in today's smart-device world and is very easy to set up. The design of the AED from start to finish is well thought out - particularly the end-of-incident report that is rapidly available to rescuers as a QR code once the device is powered off. Customer service and the folks at Avive are also super responsive and helpful.
Worth the wait!
I still can't believe how compact and portable this AED is! It takes up virtually no space in my glovebox… I've taken it on a few hikes, and with the light weight I didn't even notice it in my pack.